UCR Part I Crime Statistics
Every month the Georgia Tech Police Department updates our year to date Part One crime statistics. These statistics compare the number of Part One offenses reported to the Georgia Tech Police Department in the current year through the most recent complete month, to the same period a year ago. These statistics are reported to the FBI. Definitions for the Part One offenses are available here.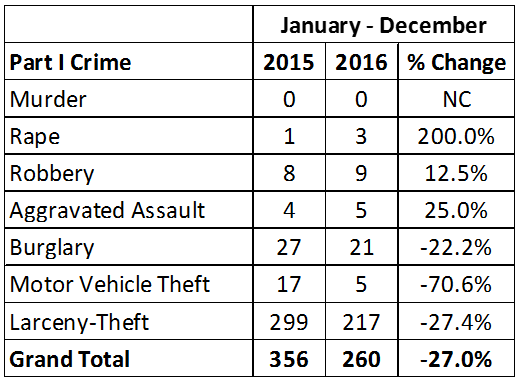 Crime Awareness Appendix
This graphical information illustrates crimes on campus reported to the Georgia Tech Police Department and the Campus Security Authorities during the past three years. The numbers represent the total crimes in that category, including those committed on campus, off campus, and on public property immediately adjacent to campus. For the complete report, including crime statistics from the City of Atlanta, please review our Campus Safety Report.