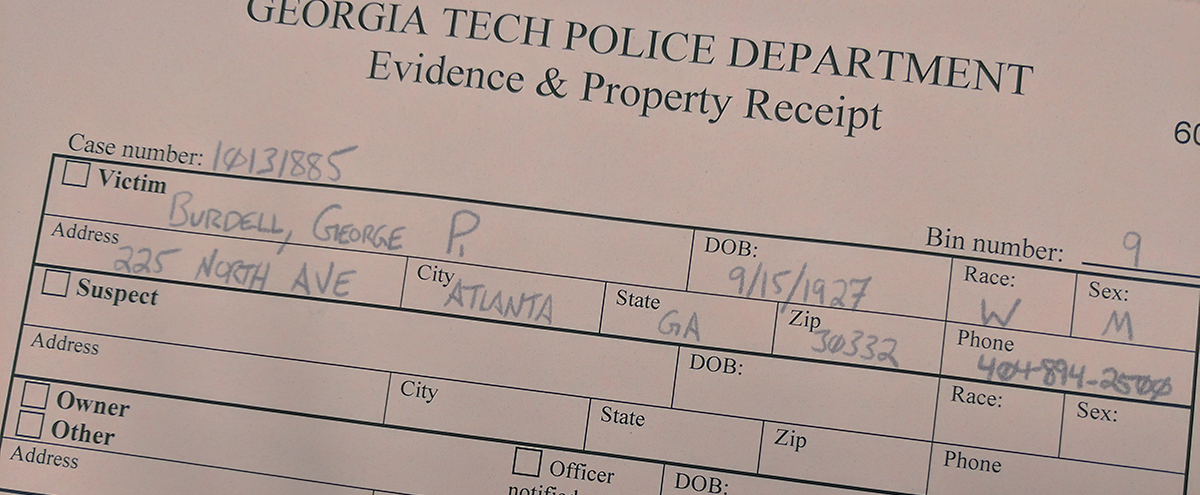 The Evidence, Property, and Records unit (EP&R) is part of the Administrative Division. It is responsible for securing and tracking all items that are collected by GTPD officers as evidence or seized property and for managing the life-cycle of police records including creation, collection, processing, maintenance, dissemination and disposition.
In accordance with Institute policies and procedures, the Records arm works closely with the Georgia Tech Office of Legal Affairs and the Georgia Tech Office of Institute Communications when complying with the Georgia Open Records Act.
To request a copy of a report from the Records Unit, please complete the Police Report Request Form. Once completed, you may:
email the form to openrecords@police.gatech.edu​
mail the form to: Records Unit, Georgia Tech Police Department, 879 Hemphill Avenue NW, Atlanta GA 30032-0440
deliver the request at the Police Department any weekday between 8:30 a.m. and 3:30 p.m.
The Georgia Tech Police Department reserves the right under the Georgia Open Records Act to assess a charge for the materials and time associated with the request.
Items collected by the Property and Evidence arm are stored until the item is no longer needed for law enforcement purposes, and then is either returned to their owner or destroyed.
High value lost & found objects are securely stored with the Property & Evidence unit. We make every effort to identify the rightful owner and return the property to them. Here you can submit a description of the property you lost, and we will contact you if it matches up with items that have been turned in to us. Please note that due to the large number of inquiries we receive, we will only contact you if we believe we are in possession of your lost property. If you have lost high value items (such as jewelry, a passport or electronics), please stop by to file a police report.
Lower value lost & found objects (such as clothing or notebooks) are often stored in the building where they are found. Check with the Residence Hall Director or the Building Manager where you may have lost your property.